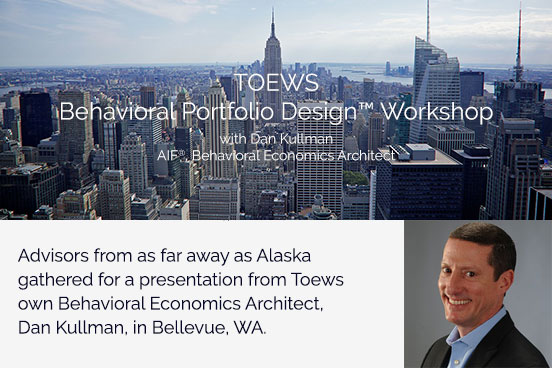 It was a beautiful day in the Pacific Northwest, Mount Rainier clear and imposing as advisors from as far away as Fairbanks, Alaska gathered for lunch and a presentation from Toews own Behavioral Economics Architect, Dan Kullman.
Dan was in Bellevue, Washington, to present the latest Toews Behavioral Portfolio Design™ Workshop.
Dan was clear that although Toews currently manages $1.8 billion in assets, this workshop was not about its funds and strategies. It was solely about how advisors can become behavioral coaches to manage portfolios and client expectations in any market.
Dan summarized the compelling market data that clearly illustrates how herd mentality repeatedly leads to bad investing decisions. Dan's message to advisors:  Don't predict the future.  A few illuminating facts shared by Dan:
For the 17-year period from 2000 to 2016, a survey of Wall Street strategists shows that they have predicted an average annual return of 9% for the S&P 500 Index
Their predictions were off by an average of 13%
They predicted no negative return years¹
Build portfolios for best case / worst case, says Dan. He also discussed goals-based planning, whole portfolio theory, income distribution strategies, managing risk perception, and other topics.
The discussion focused on incorporating behavioral investing tools into your practice.
Attendees received 3 CE credits and were provided with the Toews Behavioral Cheat Sheet and an introduction to the Toews Behavioral Portfolio Design™ Coaching Program.  Check to see if a workshop is coming to a city near you: Toews Advisor Training.
Dan Kullman has presented 12 Toews Behavioral Portfolio Design™ workshops in several cities. He is based in Houston and has more than 20 years of industry experience, beginning in 1992 as a traditional stockbroker for Lehman Brothers, moving to marketing and sales for a portfolio management RIA in the late 90's, and from 2004 to 2014, he was a Regional Vice President for FTJ FundChoice, a TAMP for independent financial advisors. This diverse industry experience has enabled Dan to cultivate the skills and knowledge necessary to assist financial advisors with developing sound investment strategies for their clients and growing their businesses.
Past performance is not a guarantee of future results. There is no guarantee that the use of Toews or any of its strategies and/or workshops will improve performance. See IMPORTANT DISCLOSURES: https://toewscorp.com/disclosures/.
1Source: https://www.bespokepremium.com/think-big-blog/wall-street-strategists-bearish-on-2017/. Sourced 5/3/17. The S&P 500 Index is a market value weighted index and one of the common benchmarks for the U.S. stock market.